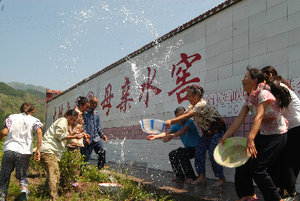 China Women's Development Foundation (CWDF) released an animated film titled 14 Years of the Water Cellar for Mothers Project on December 22, to call on the public to save water and protect the environment.
The animation film describes the 14-year development of the project. It has been uploaded to several on-line video sites to help Chinese youth to learn about China's water resources situation and encourage them to take part in water resource protection.
China is a country that suffers from a lack of water. The total amount of water resources in China ranks sixth in the world, but the water resources per capita are only one fourth of the world average. Over 400 cities across the country face insufficient water and 110 cities suffer desperate shortages of water.
In 2000, CWDF launched the Water Cellar for Mothers Project. Over the past 14 years, the project has constructed 139,000 water cellars in 25 provinces, most of them in the west of China. Furthermore, the project has implemented 1,670 water supply projects which benefit over 2.5 million people. Since 2005, the project has launched a program to provide safe drinking water for the rural people. In 2010, the project formulated a five-year plan to implement the Campus Safe Drinking Water Project and Efficient Irrigation Project and Water Resources Protection Project across China.
The animated film is available at http://v.youku.com/v_show/id_XODU0MTc1MjYw.html.
(Source: CWDF/Translated and edited by Women of China)