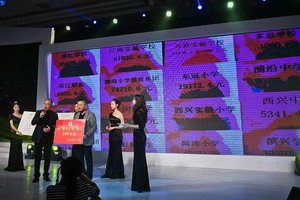 China Women's Development Foundation (CWDF) and Operation Smile China jointly held a charity dinner in Hangzhou, capital of east China's Zhejiang Province on December 5. Over 400 distinguished guests from enterprises and media outlets attended the charity dinner which aimed at raising money for children with cleft-palates.
Deputy Secretary-General of CWDF Zhang Jianmin attended the charity dinner and delivered a speech. She said that children who suffer from cleft-palates can not smile like other ordinary children nor can they eat or speak normally. She hoped that the public would help those children undergo operations and live a normal life.
Salati, a girl from Kazakh Prefecture in northwest China's Xinjiang Uygur Autonomous Region, received assistance from the Operation Smile China and fully recovered. She also attended the charity dinner with a doctor named Xie Hongbin from Peking University Third Hospital who volunteered to provide medical services for the campaign. During the charity dinner, a charity auction was held and over 3 million yuan (U.S $484,600) was raised through auction.
Over the past 23 years, the Operation Smile China has sent 130 medical teams to provide medical treatment to over 28,768 children with cleft lip and palate from impoverished families all across China.
According to statistics from the health authority in China, one in 600 infants suffers from a cleft-palate. There are 748,600 children with clef-palate from impoverished families in China, among which 262,100 children are under the age of 14. Every year, 30,000 infants are born with the disability.
(Source: CWDF/Translated and edited by Women of China)