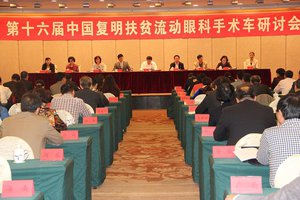 About 60,000 impoverished cataract patients across China have undergone operations in six mobile ophthalmology vehicles and regained their eyesight since 2005, according to General Secretary of theChina Women's Development Foundation (CWDF) Qin Guoying.
Qin made the statement at the 16th Seminar on Eyesight Restoration Surgical Operation Vehicles held in Fuzhou, capital city of southeast China's Fujian Province from November 11-12.
The six operation vehicles were donated to the CWDF by the Hong Kong-based Asian Foundation for the Prevention of Blindness (AFPB), to provide treatment to impoverished cataract patients in Guizhou, Hebei, Sichuan, Gansu provinces and Xinjiang Uygur Autonomous Region.
Qin confirmed AFPB's achievements in promoting ways of preventing and curing blindness and education among blind people in the developing world in Asia, saying that the AFPB has brought light to about 410,000 impoverished cataract patients in Asia since it was founded in 1981.
Leaders from the AFPB, the CWDF, the China Disabled Persons' Federation, medical experts, representatives on medical vehicles from across the country and other officials exchanged their work experiences at the seminar. Dr Chow Pak Chin, president of the Hong Kong Medical Association, also discussed professional questions with other experts at the seminar.
Data from the World Health Organization (WHO) shows that today there is an estimated 180 million people worldwide who are visually disabled. Of these, between 40 and 45 million people are blind. Approximately 50% of the world's blind suffer from cataracts. Despite a half century of efforts, commencing with organized trachoma control activities, the global burden of blindness is growing largely because of population growth and ageing.
(Source: cwdf.org.cn/Translated and edited by Women of China)