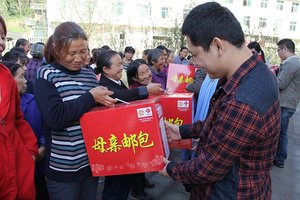 Although many women suffer from poverty, they still cherish their hopes for a better life, said a netizen who has taken part in a tour to Ningqiang County, northwest China's Shaanxi Province recently.
This tour was sponsored by the China Women's Development Foundation and Tencent Charity Foundation, which supplied funds for 10 netizens to join the tour. From October 22 to 24, the tour team visited Hanyuan and Hujiaba townships in Ningqiang County and communicated with beneficiaries of thePostal Parcel for Mothers Project. The visitors inquired about the living conditions and demands of local impoverished women and delivered parcels containing daily necessities and other living supplies to them.
In 2008, Ningqiang County was badly damaged during the Wenchuan Earthquake. The local government worked hard to rebuild homes for local people after the earthquake.
On October 23, visitors held a ceremony to distribute parcels containing daily necessities to local people. At the ceremony, volunteers from Tencent Charity Foundation addressed the participants on the significance of helping impoverished women. The volunteers called on the public to offer more help to impoverished women.
After a three-day trip to the poverty-stricken region, the visitors gained much knowledge of impoverished regions in northwest China. "I think this trip has helped me know more about poverty-stricken areas and impoverished women," said a visitor from Guangzhou, the capital of south China's Guangdong Province.
"Although many women live in poverty, they still feel confident about their future," added another visitor from Beijing.
A staff member from Tencent Charity Foundation told reporters that they would organize more activities of this kind in the future to draw people's attention to impoverished people and poverty-stricken regions.
(Source: CWDF/Translated and edited by Women of China)